Surprise Me!
16-year-old Simon is gay, but he hasn't told anyone yet.
Except for his secret penpal Blue, who's in the same boat, and who Simon has a major crush on. Then someone from school sees Simon's email, and uses it to blackmail Simon. Now Simon has to set up one of his best friends with his blackmailer or risk outing Blue. A romance more than a coming-of-age story, and one that I wanted to read again immediately just to have more of the warm fuzzies it gave me.
Simon vs. the Homo Sapiens Agenda by Becky Albertalli (Balzer & Bray/Harperteen) Recommended by Meliissa at Fiction Addiction Greenville SC
When Alice is sent from her desk job at a New York publishing house to the Bel Air mansion of M.M. Banning, a reclusive one-hit wonder in the literary world, she relishes the idea of doing something new and helping Mimi write her next great novel.
But it turns out, she's mostly wanted to take care of Frank, Mimi's 9-year-old son, a precocious genius who loves old Hollywood movies and dresses better than anyone you've ever met, but who can't seem to bring himself to socialize with other kids.
As Alice is charmed by Frank, she starts to wonder about the life Mimi has built for the two of them and whether she actually has a place in it, however temporary. Fans of Graeme Simsion's The Rosie Project will be drawn to Frank and his social awkwardness that somehow manages to also be endearing.
Be Frank With Me by Julia Claiborne Johnson (William Morrow) Recommended by Melissa at Fiction Addiction Greenville SC.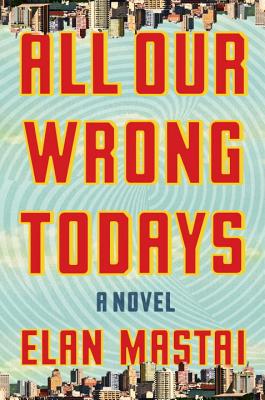 This spectacular (and spectacularly weird) debut imagines 2016 as an alternate universe full of technological advances--including time travel--that we can only dream of in our 2016. But thanks to Tom making a series of small-to-catastrophic mistakes, we've all gotten stuck in the wrong universe. As delightful a novel as I've read in ages.
All Our Wrong Todays by Elan Mastai ($26.00, Dutton Books), recommended by Niki, Parnassus Books, Nashville, TN.