Details

Published: 12 July 2017

12 July 2017
JOSHILYN JACKSON: PCH, when I realized we had the same release date, I was excited about planning launch parties together because we have been friends for so long, I read your books for pleasure, and you are more fun than a bucket of puppies. Then I read THE BOOKSHOP AT WATER'S END and I became a different kind of excited – I think these books ping off each other in a multitude of ways. Do you see any intersections?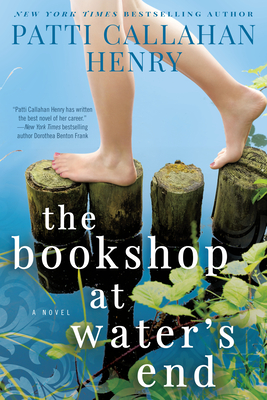 PATTI CALLAHAN HENRY: Oh, Joshilyn! I too was so thrilled we had simultaneous release dates—we've supported each other's work for almost fifteen years now. Yes, I saw so many intersections, even while our stories appear to be completely different in tone and subject matter. We both chose small towns and ancestral homes to ground our stories in the past as well as the present.  We both wrote about women who are "sisters" with someone who isn't quite a sister; we delved into the heartache of first loves and that transformational power (for the good and the bad); and we both enriched the story with the power of a woman's calling to not only her family but also her career. This is the power of creativity and story—we touched on the same subjects and wrote two entirely different novels. What wonder writing can be!
JJ: THE BOOKSHOP AT WATER'S END strikes me as intergenerational—I love the fact that women from 19 to 90 have a voice.  At the same time, this is a book that is very much about urgency of purpose, which I think is sometimes (wrongfully) seen as a male storyline. The female need to find or retain purpose feels universal in this world—do you think that's true at every life stage? How is it different for lost Piper as the youngest  and Bonnie and Lainey, in their middle years? Do you think the eldest, Mimi, is at peace with purpose? Is it possible at any stage?
PCH: Oh, I believe purpose and vitality are integral to our wellbeing and our soul's growth at every stage of life. It was fascinating to write about this from the angle of a 19 year old and a much older woman and in between. What is our purpose? Do we have a calling? These are questions we must all ask ourselves, but sometimes avoid. For Piper, as the youngest, it is about learning not to react to life but engage in it with the Truth of what she wants and who she is. For Bonny and Lainey, it is a re-evaluation, asking what does this purpose mean for us now, in this stage of life? Do we shift or do we enrich? Answering these questions is an internal journey everyone must take. And lastly, for Mimi, the eldest among them, she still works at her bookstore and realizes that her purpose never ends. I'm not sure we can ever be at peace with that driven purpose, or with our calling, but maybe that discontent continually drives us forward to new adventures!
JJ: A lot of key scenes take place in a bookstore, and I know you have a long, deeply invested relationship with Indies. Did bits of any real bookstores make it into your fictional one?
PCH: Indeed! This bookstore in Watersend, South Carolina is an amalgamation of all my favorite Indies, places where I have found not only community but also the just-right-book when I needed it. I took a piece of this, a slice of that and built my very own bookstore at the river's edge. Of course we can't discount my deep and abiding love for the Indies as this is where my career began – with their support for my stories!
JJ: I always say that none of my characters are me, but they are all mine. Can you locate yourself in this book? I think of Bonny as the main character, because she is the hub where all the storylines connect, and she is also where I most easily locate you. Probably because Bonny feels a calling to be a doctor, and I know you began your professional life as a nurse—did you feel that calling? Are all professions a calling? Are you called to be a writer?
PCH: I always say my characters aren't me but they are from me. I only have my compost pile to dig through, although empathy and imagination for my characters are an integral part of the process. I love that you can locate some of me in Bonny because I just loved writing about her, or to be more precise, writing for her. Yes, the way Bonny felt about becoming a doctor was exactly the way I felt about becoming a Pediatric nurse, and how I still feel about the medical vocation (although I've left it for writing). So, I absolutely believe that some professions are "callings" (my dad is a preacher, so callings are a norm when talking about life). I don't know if all professions are callings but I do believe that the careers we are the most passionate about, the ones that demand all of who we are being put on the line, are most definitely callings.
JJ: Bonny and her best friend make underwater wishes as children, and these wishes have come true, in some form or another, by the time the book begins. But not in a tidy or easy way—in fact, for one of your narrators, the urgency and longing for these wishes and the ways in which she may lose them are among the largest conflicts in the book. So for me, this is a book about the gap between what we desire and what we get. Can you talk a little bit about that gap?
PCH: The gap between what we desire and what we get—what a lovely way to sum up the conundrum my characters find themselves in. And not only the gap, but also the way in which we "get" what we believe we want. There will be things and people that we will want, and yet some of those things and people will not be ours to have, and "letting go" is imperative to our happiness. This truth is played out in this novel over and over – whether it is a job or a person or a situation or an answer. Who we become depends in large part in how we react or adjust to this gap.
JJ: I want to ask you about Mimi, possibly my favorite character. She was in THE STORIES WE TELL. I loved her in that book, and I was delighted to run into her again here. Is this the first time a character has stayed with you for multiple books? Why did she stick? Will she be back?
PCH: In twelve novels, this is the first time I've carried a character forward into the next novel (albeit there have been a few cameos). It is because of readers like you that I brought Mimi with me across the great bridge from one book to the next. Over and over I heard how well loved she was in the last novel. And honestly, she had more to say; I had to quiet her so many times in the last book, so this time I let her have her say! I'm not sure she'll be back, but my best guess is yes J
JJ: My favorite quote from this book had me weeping, but I can't share it here. It contains a spoiler! People will have to find their own way to that glorious moment. (It is worth the trip, y'all.) But early in the book, Bonny says something that speaks to your whole body of work—one of the things that makes a book recognizable as yours. She says, Landscape was memory or maybe memory was landscaper. . . Our three childhood summers in Watersend had been more than sun-soaked ellipses between school years, more than vacation. Those days held the making of me. Can you talk a little about this very PCH truth that place/nature shapes us and how this has expressed itself in your body of work?
PCH: Joshilyn! I love that you notice that theme in all my work. Yes! It is often said that setting is a character, and maybe that's true, but for me it is more than a character, it is the essence of the story. The story could not take place anywhere other than where it does or it would be a different story altogether. The setting, the landscape must not only be external but also influence the internal journey of my characters (my people). This has also been true for me in real life, over and over again, the geography of a place becomes part of who I am and what I resonate with and what I desire. I want the same for my novels.
---