Surprise Me!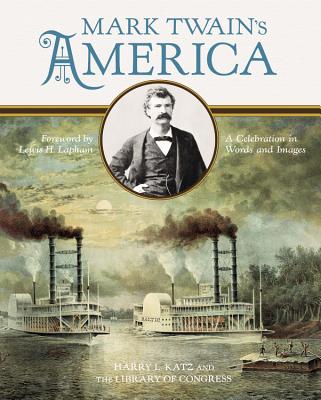 A perfect gift for anyone who loves presidential biographies and Ken Burns documentaries. Put together by the Library of Congress, this breathtakingly detailed and entertaining book full of American history, shown through the lens of one of its greatest icons, is perfect for any coffee table.
Mark Twain's America: A Celebration in Words and Images by Harry L. Katz, Library of Congress ($40, Little Brown & Company), recommended by Parnassus Books, Nashville, TN.
Bizarre, original, and entertaining! As per usual with Stiefvater's books, it was magical and full of complex characters.
All The Crooked Saints by Maggie Stiefvater ($18.99*, Scholastic Press), recommended by Page 158 Books, Wake Forest, NC.
Darth Vader isn't scared of anything. Not werewolves or vampires or ghosts or witches. Absolutely nothing scares him. But what about when everyone leaves...even the reader? This hilarious book will leave you in stitches as you read about just how Darth Vader feels about so-called scary monsters. It's an especially great pick for grownup Star Wars fans to share with the children in their lives.
Star Wars: Are You Scared, Darth Vader? by Adam Rex ($17.99*, Disney Lucasfilm Press), recommended by Fiction Addiction, Greenville, SC.
This is an extraordinary tale of a paralyzed veteran who is gifted (or cursed) with a miracle, the storm that surrounds him in the aftermath, and the meaning of faith. This book has ruined me. It was so good I didn't want to read anything else. I was in a funk for days after finishing it knowing that nothing else would measure up. I laughed until I cried. Then I wept with sorrow until I couldn't read the pages. I fell in love with every busted up character in this book and the town of Biloxi, Mississippi. This is a loving portrait of present day America: imperfect, ridiculous, dangerous, yet still inspiring. I don't know what I have to do to get you to read this book, but I ain't too proud to beg. 
Anatomy of a Miracle by Jonathan Miles ($27.00*, Hogarth Press), recommended by Fountain Bookstore, Richmond, VA.
This debut novel is a thriller, a love story, a story of courage and the many unknown heroes who made life and death decisions in the face of the horror that was Berlin in 1943.
Gillham's language is stunning and his characters are real, with all their flaws and all their bravery. This is a book that will stay with me for a long, long time.
City of Women By David R. Gillham ($16, Berkley Trade), recommended by Rene, Quail Ridge Books, Raleigh, NC.