Read This Now: The Index
What if there were an army of indie booksellers enthusiastically reading and reviewing practically every new book coming out in the next year, and what if the books they were the most excited about, the books they couldn't wait to push into their customers' hands with a breathless "You've GOT to read this!" (virtually or otherwise), the ones with all the nine- and ten-star ratings were carefully curated and collected in a handy list? Well, all we can say is...KEEP READING!
---
Surprise Me!
You will enjoy this brightly illustrated tour through Chloe's magic garden. Throughout your journey, you will learn amazing nature facts such as, how caterpillars turn into butterflies, why animals camouflage themselves, and how birds weave a nest. A delightfully educational stroll through nature perfect for young backyard explorers.
The Magic Garden by Lemniscates ($16.95*, Ward Foster, Jr.), recommended by Octavia Books.
Don't be put off by the strong sexual language at the beginning of Here I Am by Jonathan Safran Foer. It leads you to the skillfully told story of Jacob Bloch, his wife Julia, and their three sons. The growing tension and a destructive earthquake in the Middle East parallel the deterioration of the Blochs' marriage. Having waited over a decade for a novel by Foer, author of two of my favorites--Extremely Loud and Incredibly Close and Everything is Illuminated--I realize that Foer has only become a more eloquent and empathetic storyteller, willing to take on the difficult issues of our time.
Here I Am by Jonathan Safran Foer (Farrar, Straus and Giroux $28), recommended by Mamie at Quail Ridge Books, Raleigh, NC.
I obsessively checked out campaign coverage this election season, and it was a relief to examine turning points in past presidential campaigns and already know how everything turned out.
Whistlestop: My Favorite Stories from Presidential Campaign History by John Dickerson, (Twelve, $30.00), recommended by Niki at Parnassus Books, Nashville, TN.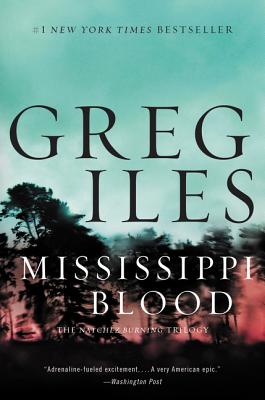 Andrew at Lemuria Books reviews Mississippi Blood, the final, riveting chapter in Greg Iles's Natchez Burning trilogy. (The second volume, The Bone Tree, was a 2016 Southern Book Prize winner). The whole trilogy is set in the Natchez, Mississippi, and centers on long-running Iles protagonist Penn Cage, who also appeared in The Quiet Game in 1999. The trilogy also features appearances from characters in the previously stand-alone and unrelated thriller Dead Sleep from 2001.
"I personally first encountered the character of Penn Cage about four years ago on the pages of his second novel, Turning Angel. Penn became the latest in my personal parade of literary types that I treasure: the non-professional private eye," writes Andrew, about characters intertwined inseparably from their setting: "And that's the thing about these characters: they inevitably become inseparable from their settings. Penn lives and breathes Natchez like its sins and successes are wholly his burden to bear."
Read more about Mississippi Blood at Lemuria Book's blog.
Mississippi Blood by Greg Iles ($28.99, William Morrow & Company), recommended by Andrew, Lemuria Books, Jackson, MS.
Michael Parker eloquently captures the desolate beauty of the Oklahoma prairie in prose that is somehow both searing and lyrical as he tells the story of two teenage sisters in the early 1900's. The pair are deeply close, although they couldn't be more different. Lorena is sensible, Elise is always lost in flights of fancy. When a series of events leads them to realize they have feelings for the same man, their young teacher, the two are driven apart by years and hundreds of miles. This not a sad story. It is a tale of abiding love infused with charm, wit, and bitingly humorous dialogue. I was enchanted, and to put it simply, I loved how this book made me feel.
Prairie Fever by Michael Parker ($26.95*, Algonquin Books), recommended by The Country Bookshop, Southern Pines, NC.