All Categories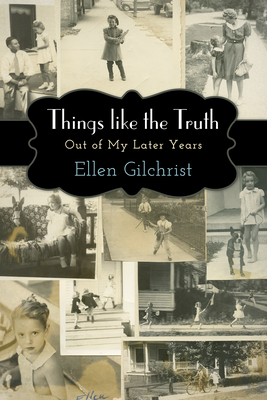 Things like the Truth offers a collection of nonfiction essays about Ellen Gilchrist's life, family, home, work, aging, and the fun of fighting to stay healthy in an increasingly undisciplined culture. This collection brings together for the first time essays by Ellen Gilchrist on her later life and family. Essays such as "The Joy of Swimming" reveal how Gilchrist, as an aging person, thinks about the joys one can discover late in life. Other essays focus on surgery, money, childhood memories, changing perspectives, and the vagaries of the age.
Gilchrist pays special attention to her evolving relationships with her adult children and the pleasures and pitfalls of being a grandmother and great-grandmother. The volume also includes essays from her diary about the sense of place in her mountain home near her work at the University of Arkansas and about life after Hurricane Katrina on the Mississippi Gulf Coast, her second residence.
Things Like the Truth: Out of My Later Years by Ellen Gilchrist ($29.95, University Press of Mississippi). recommended by Garden District Book Shop, New Orleans, LA.
---