Surprise Me!
Captain Jefferson Kyle Kidd makes his living reading the newspapers from across the world to Texan audiences. In the winter of 1870, he accepts responsibility for returning a 10-year old girl, kidnapped by the Kiowa when she was six, to her family near San Antonio. This book has it all: stupendous writing, characters that get under your skin and burrow deep into your heart, great pacing, and an ending that makes you cry with joy and relief. I would recommend this book to a wide array of readers, including fans of westerns, historical fiction, road trip novels, and literary fiction. Also a great choice for book clubbers. Other authors that came to mind while I read were Ron Rash, Charles Portis, and Mary Doria Russell.
News of the World by Paulette Jiles (William Morrow $22.99), recommended by Janet, Quail Ridge Books customer, Raleigh, NC.
I know we're all tired of hearing phrases like that about books, but I really believe this book can change lives and save lives. Matt Richtell has written an investigative book on the use of cell phones while driving. It is as compelling as it is damning.  
A Deadly Wandering shows that there is now enough scientific evidence to support that driving while texting and talking on the phone (even speaker phone) can be as deadly or even more deadly than driving drunk. I have personally almost been hit several times while walking by a texter or phone user. You probably have too. This book proves that no one can both drive and use their phone at the same time and not be a danger to others and themselves.
We can move the needle on this one, my friends.
Please read it.
Because, really: what a stupid way to die.
A Deadly Wandering by Matt Richtel ($28.99, William Morrow & Co.), recommended by Kelly, Fountain Bookstore, Richmond VA.
TenNapel has created a very real Reptiles vs. Amphibians world in which Little Herk, the weakest of the Nnewts, is forced to flee his home when his town is invaded by the scary Lizzarks.

Confined to water due to his underdeveloped legs, Herk navigates the big wide world with an evil overlord hot on his tail. He must find the strength he possesses within himself, different from all the others -- his life depends on it!
This is a great start to a new graphic novel series for kids. Fans of Zita the Spacegirl or Amulet and Bones--here's something new for you!
Escape from the Lizzarks by Doug TenNapel (Graphix) Recommended by Amanda at Inkwood Books Tampa FL 
Jim Byrd is not really obsessed with death, mortality, and ghosts, but after a peculiar health scare, he can't avoid them. From cryonics to psychic mediums, he seems haplessly fated to encounter the full range of mortality cures. Central among them--and deservedly central in this book--is a staircase at the back of an old house where supernatural physics seem to be in control. As a mini-prologue to each chapter, Pierce lays out a montage of events in the life of previous residents and their families. At first these vignettes seem to support a little ghost story. But by the end, they resolve brilliantly into a poignant comment on Jim's misadventures, and what at first was a story concentrated on death and the hereafter satisfyingly becomes a novel about the ephemeral fragility of life itself.
The Afterlives by Thomas Pierce ($27.00*, Riverhead Books), recommended by Turnrow Books, Greenwood, MS.
 A Winter 2018 Okra Pick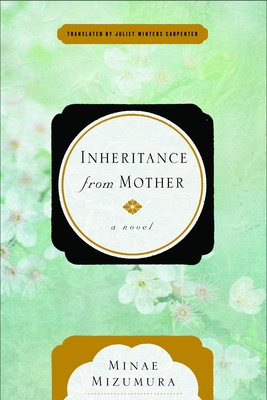 I just finished reading an amazing new novel in translation: Inheritance from Mother by Minae Mizumura (translated by Juliet Winters Carpenter). It's a long novel that was published over a two-year period in a Japanese magazine, as a homage to earlier Japanese serial novels. It follows a middle-aged woman named Mitsuki and her attempts to rearrange her life upon her realization that her husband is cheating on her, that her mother will soon be dying and leaving she and her sister a sizable inheritance, and her constant ruminations on money and the ways she will fill her time and economize her savings until she, too, dies. If that all sounds morbid and dark, it is, but there is also a subtle humor at work during the novel, with both sisters talking about how they'll celebrate when their mother finally dies--their relationship to her is fraught, to say the least--and the many flashbacks into the past add a lot of depth to the characters and the family history overall, leaving me with the feeling of really knowing these characters and of feeling sad to have to leave them by the end of the novel. Luckily, it's relatively long, and Mizumura's writing style is simple but elegant, not forcing you to get too bogged down in deciphering the beauty of each sentence, and really letting you enjoy the characters and the plot.
Inheritance from Mother by Minae Mizumura, translated by Julia Winters Carpenter ($27.95, Other Press), recommended by Jacob, Malaprops Bookstore/Café, Asheville, NC.