Surprise Me!

Celia Rivenbark is the bestselling author of We're Just Like You, Only Prettier, and now writes a mildly profane etiquette manual for the modern age.
She addresses real life quandaries ranging from how to deal with braggy playground moms to correctly grieving the dearly departed. Good Manners have never been so wickedly funny!
Rude Bitches Make Me Tired by Celia Rivenbark (St. Martin's Griffin), recommended by The Country Bookshop Southern Pines NC.
Before Morning by Joyce Sidman and Beth Krommes (HMH Books for Young Readers $17.99). Who hasn't wished for an overnight snowfall that transforms the next day? A minimal, pitch-perfect text is magnificently illustrated in scratchboard and watercolor. From endpaper to endpaper the entire city and surroundings gradually change shape and color as the snow falls. A little girl and her family revel in the unexpected, but welcome diversion, and there are many charming and amusing details in the art for readers to discover and follow. A quiet, but brilliant gem to share with everyone. Before Morning by Joyce Sidman and Beth Krommes (HMH Books for Young Readers $17.99), recommended by Carol at Quail Ridge Books, Raleigh NC.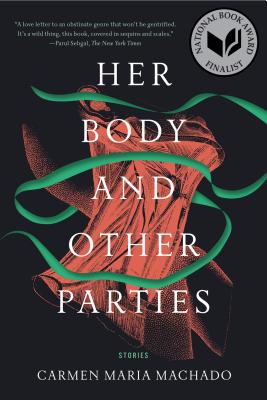 It's difficult to put into just a few sentences everything that Her Body and Other Parties is. Rhythmic and hypnotic, yet unexpected and treacherous. These fearless, smart, reality-warping, and creepy as hell stories will suck you in and not let go until you have to force yourself to come up for air. Highly recommend!
Her Body and Other Parties: Stories by Carmen Maria Machado ($16.00*, Graywolf), recommended by Flyleaf Books, Chapel Hill, NC.
A modern-day reimagining of Hamlet, as told by a third-trimester fetus. No, really! From his cramped quarters in the womb, our yet-to-be-born narrator overhears his mother and  uncle plotting to murder his father. Sure, the premise is far-fetched, but you'll be amazed how McEwan pulls it off. Nutshell is an ingenious, hilarious page-turner of a novel.
Nutshell by Ian McEwan (Nan A. Talese, $24.95), recommended by Travis at Flyleaf Books, Chapel Hill, NC.
You read spellbound as young JFK swims miles behind enemy lines in shark infested waters with the life jacket strap of his oldest and most injured crew member clinched in his teeth, leading his sailors to safety on a deserted island. 
He goes back out alone in the black sea, treading water for hours hoping to flag down a passing American ship.  JFK was only 25 years old, on his own, having volunteered for combat.  Years later he kept a glass paperweight on his desk in the oval office that contained the coconut that he had carved a message in and sent to his base alerting his commander to his crew's location.
Fabulous history!
PT 109: An American Epic of War, Survival, and the Destiny of John F. Kennedy by William Doyle (William Morrow & Company) Recommended by Helen at Quail Ridge Books Raleigh NC