Surprise Me!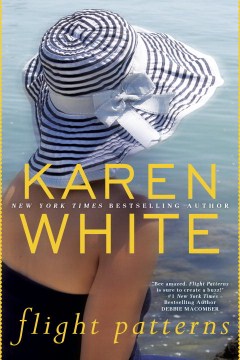 Georgia Chambers is one of the top china experts in the United States, but when a client brings her a piece that connects to her past, she is forced to go back home. Reunited with the comforts of salt air, and her grandfather, will Georgia Chambers be able to face the rest of her family? Will there be time to heal past relationships or has too much time passed?
Karen White is known for her whimsical Tradd Street series, but in several of her latest novels, she broaches tougher topics that trouble modern day families. Infused with the southern coast and the ocean, this book makes for a great beach read, as well as a reading group selection.
Flight Patterns by Karen White ($15.00, Berkley Books), recommended by My Sisters Books, Pawleys Island, SC.
With a focus on the manufacturers rather than the consumers, Haag's book helps unravel the mythic existence of the American gun. 
And don't worry, the book is also completely free from Second-Amendment-bashing tirades. Instead, Haag offers a clear-eyed historical account of how guns became so pervasive in our culture and what we should do moving forward.
This book makes clear that Americans were not inherently gun-happy, that they had to be sold on them like any other product. This book is essential for anyone interested in what's actually being said in the current debate over guns.

The Gunning of America: Business and the Making of American Gun Culture by Pamela Haag (Basic Books) Recommended by Donovan at Inkwood Books Tampa FL
What is unusual and so appealing about Jonathan Rabb's Among the Living is that the novel takes two issues that separately we've heard so much about—the European Jewish experience and the Jim Crow era south—and blends them together in a way that demonstrates a fresh perspective. I found it powerful and engaging.
Among the Living by Jonathan Rabb (Other Press, $25.95), recommended by Stephanie at Page & Palette in Fairhope, AL.