Surprise Me!
Catherine is a happily married successful TV documentary maker with a 25 year old son. Stephen is a washed up, disgraced teacher who is still grieving the recent death of his wife and that of his son 20 years earlier.
They have never met each other and neither realizes that the same event in the past will soon have serious repercussions on both of their lives. Catherine thought she was protecting herself and her family when she chose to keep secret the events of 20 years ago. Stephen thinks he is doing what his wife would want and is seeking revenge for what he thinks happened 20 years ago.
They are both wrong as will be seen in this unique and unusual psychological thriller.
Disclaimer by Renee Knight (HarperCollins) Recommended by Nancy at Fiction Addiction Greenville SC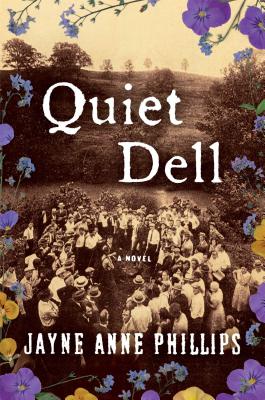 Award-winning author Phillips has been haunted by this story for 40 years. Her novel is based on the murder of the Chicago widow Asta Eicher and her three children in 1931. Lonely and out of money, Asta corresponds with a seemingly moneyed and well-mannered stranger named Harry Powers. She is lured to West Virginia, where, within a few days, the family is brutally murdered. Emily Thornhill is the Chicago journalist who becomes deeply involved in solving the sensational case, during which she falls into a passionate but problematic love affair. Phillips portrays the Eicher family so charmingly, especially the youngest child, Annabelle, that our horror and outrage are tenfold. This earns a place on the shelf with such classics as Night of the Hunter and In Cold Blood.
Quiet Dell by Jayne Anne Phillips ($28, Scribner) recommended by Lisa, Square Books, Oxford, MS.
In her latest collection, Bonnie Jo Campbell taps into the lives of working class women to reveal truths that are raw and inspiring.
The women in these stories are victims, survivors, fighters, dreamers, providers and drifters. All of them vulnerable but incredibly tough, they navigate the complex and often baffling territory of relationships with men and with one another.
Touching but never sentimental, these stories are Campbell at her best.
Mothers, Tell Your Daughters by Bonnie Jo Campbell (W. W. Norton & Company) Recommended by CF at Square Books Oxford MS
Conundrum: The name of the campus house where Haley's freshman roommate claims to have been raped, and the exact position Haley is put in when she finds herself drawn into the campus investigation. At the same time, Haley is growing closer to Richard, a housemate of the accused and a boy who annoys her, excites her, makes her furious, and makes her laugh. Haley and Richard find themselves on opposite sides of somebody else's war, struggling and scrambling to discern just who is telling the truth about what really happened. Timely, poignant, and thought-provoking, Wrecked should be required reading for every high-school senior.
Wrecked by Maria Padian, (Algonquin Young Readers, $17.95), recommended by Angie at The Country Bookshop, Southern Pines, NC.
I just devoured the young adult fantasy debut Roar by Cora Carmack. Those who loved Truthwitch, The Red Queen, and Graceling will have a favorite new author to obsess over. Even the cliffhanger ending (it is the first book in a YA trilogy after all) could not dim my delight in this discovery.
Roar by Cora Cormack ($17.99, Tor Teen), recommended by Jill at Fiction Addiction, Greenville, SC.