Surprise Me!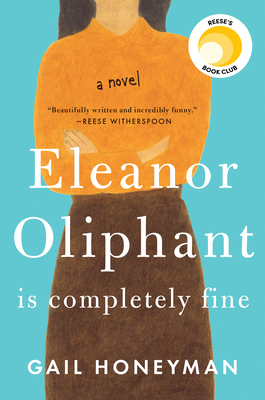 As I began Eleanor Oliphant is Completely Fine, a novel by Gail Honeyman, I thought I'd encountered a cute little story about a quirky young woman whose unfiltered observations of, and responses to, people in her world were laugh-out-loud funny. But my illusions faded quickly. I learned that Eleanor's social ineptness, and a physical deformity, led to her isolation and profound loneliness. And behind the physical scar were the emotional scars inflicted by an abusive mother. This is a sober book but it's not depressing. Eleanor copes with her situation with the help of another quirky soul and professional counseling. Honeyman does a masterful job of using wit and first person narrative to create a powerful story of innocence, in spite of pain, and the possibility of recovery.
Eleanor Oliphant is Completely Fine by Gail Honeyman ($26.00*, Pamela Dorman Books), recommended by Quail Ridge Books, Raleigh, NC.
Much like his previous book, The Outlaws of America: the Weather Underground and the Politics of Solidarity, Berger focuses herein on the radical edge of the 1960s/70s movement.
His argument, hardly a new one, is what caused the radicalization of the civil rights movement was the attempt to imprison its most impassioned voices. The leadership of what came to be the Black Power movement was schooled for revolution behind the walls of the American supermax prison system.
Perhaps the most influential name of Black Power, George Jackson did not leave prison alive, yet he remains a powerful symbol near half a century after George Jackson was shot down in the prison yard at San Quentin.
Captive Nation: Black Prison Organizing in the Civil Rights Era by Dan Berger (University of North Carolina Press) Recommended by Glen at A Cappella Books Atlanta GA
Journalist Branigan Powers begins looking into the ten-year-old unsolved murder of a wealthy resident of Grambling, GA for an article planned to coincide with the anniversary of the murder.
The clients of a homeless mission run by her childhood friend Liam become an important source of information but when two homeless are killed weeks apart in hit-and-run accidents Brannigan begins to fear that she has awakened a murderer.
The Cantalope Thief is an insightful look into the life of the homeless and how others see them. It is a story of love and family and the horrible efects of drug addiction as well as an intriguing mystery with a cast of characters that I hope to encounter in future books.
The Cantaloupe Thief by Deb Richardson-Moore (Lion Publishing)Recommended by Nancy at Fiction Addiction Greenville SC
Fans of Dan Jenkins will be very happy with his latest novel. Jenkins is well-known among sports fans for his satirical, funny tomes set in the world of sports. What he did for football with Semi-Tough and golf with Dead Solid Perfect, he now does for big-time college sports. Good ol' boy Pete Wallace has finally reached the top of the college sports world by becoming the athletic director at Western Ohio University. The story of how Pete handles politically correct campus culture, fragile egos, and colorful characters is laugh out loud funny.
Stick a Fork in Me by Dan Jenkins (Tyrus $16.99), recommended by Bill, Quail Ridge Books, Raleigh, NC.
In Radiance of Tomorrow, Beah turns to fiction to tell the  story of a group of villagers who return home at the end of war to reclaim their lives and culture. This is a book of hope, longing, large corruption and small mercies, from a master storyteller.
Radiance of Tomorrow By Ishmael Beah ($14, Sarah Crichton Books), recommended by Sarah, Quail Ridge Books, Raleigh, NC.