Details

Published: 24 September 2017

24 September 2017
view in your browser | Unsubscribe or manage my Lady Banks Subscription
SEPTEMBER 24, 2017
>> IN THIS ISSUE
The Commonplace Book | Read This! | The List | {Book} Trailer Park | Okra Picks | Southern Indie Bestsellers | Events
---
{Making words dance on the page.}
In which Mr. Wendell Berry reminds us that nature has more votes than either Republicans or Democrats, a bookstore closes and another gets ready to open, and Mr. Kwame Alexander wants to make shrimp and grits for his friends.
One of the highlights of the SIBA Discovery Show in New Orleans earlier this month was the announcement that Kwame Alexander had been selected as the inaugural recipient of the 2018 Conroy Legacy Award.
The award was created to recognize writers who, like the author it was named in honor of, have created a lasting impact on their communities, been an advocate of independent bookstores, supported other writers, and written about their own home place. Writers, like indie bookstores, like Mr. Pat Conroy himself, are forces for change and for good in their communities. The Conroy Legacy Award honors this spirit, so ingrained in Southern literary culture.
Kwame Alexander was chosen to be the first Conroy Legacy Award winner by a jury of Southern independent booksellers. Alexander is the author of 24 books, including The Crossover, which received the 2015 John Newbery Medal for the Most Distinguished Contribution to American literature for Children, the Coretta Scott King Author Award Honor, The NCTE Charlotte Huck Honor, the Lee Bennett Hopkins Poetry Award, and the Paterson Poetry Prize. Kwame writes for children of all ages and believes poetry can change the world.
"He makes a point of coordinating when possible with the local indie bookstores to provide the books at his events," says Hillary Barrineau of Hooray 4 Books in Alexandria, Virginia, "The year he won the Newbery, he attended our bookstore's "Grand Expansion Party," driving here directly from his daughter's wedding earlier that day."
And Alexander is active in literacy programs world-wide. He created the Page to Stage Writing Workshop, which is run in schools in the US, Canada, and the Caribbean. Alexander also recently organized an initiative to bring 20 writers and activists to Ghana, where they built and stocked a library and trained teachers to promote literacy in the country.
All of which is to say, he is a man who believes in the power of the written word, who thinks one of the best things you can do to get kids reading is put them in a room full of books:
"Find a way to keep them in the room. Books are doing the work to reach them--find kids where they are, make literature available." -- Kwame Alexander
Amen.
Read Independently! And shop local.

her ladyship, the editor
---
---
Lady Banks' Pick of the Week
---
Noteworthy poetry and prose from her ladyship's bedside reading stack.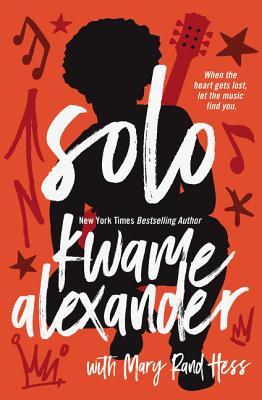 Dear Blade
As I sit and write this, I look over at your blue-black eyes and copper smile. You are the happiest seven-year-old I've ever seen. You're reading comics and practicing guitar with your dad. And, I'm sad. I'm sad, because if you're reading this, it means I'm gone.
I know you'll wonder why we never told you your story before now. Blade, sometimes it's difficult to explain family and secrets and why you want to keep some things sacred and sealed until the right time. Perhaps there will never be a right time, or maybe right now it is just when you'll need to read this.
I love you, son. Your father loves you.
Kwame Alexander, Solo (Blink, 2017) 978031061839
top | share this
Kwame Alexander talks poetry, family, feeding the imagination, and the importance of the independent bookstore.
As the winner of the inaugural Conroy Legacy Award, it's not surprising to learn that even as a two-year-old, Kwame Alexander intimidated others with his words.
When a pre-school classmate knocked over his carefully constructed tower of blocks, Alexander expressed his understandable anger not with shoves, but with rhymes repurposed from Dr. Seuss's Fox in Socks.
Now the poet/novelist/speaker draws on a lifetime reading and writing books and poetry not to intimidate with his words, but to connect, encourage, and inspire. In a thoughtful interview at the #SIBA17 Discovery Show in New Orleans with Erica Merrell, SIBA board member and owner of Wild Iris Books in Gainesville, Alexander shared his love of literature, the power of poetry to tame the rowdy tween, the importance of family, and his deep admiration of Pat Conroy. And like Conroy, or any true master of words, he wove each strand into a compelling whole.
Growing up in a book centered family--his parents wrote, taught, sold books--Alexander had to be lovingly persuaded to share his parents' enthusiasm. "I hated books. I hated them because I was immersed in them," he said.
However, early encounters with activism and social justice led him to discover the power of his own voice. When his father took him to march on the Brooklyn Bridge to protest police violence, Alexander felt his initial fear subside as his connection to the crowd and its message grew. "I began to find my voice. I began to raise my voice. I'm an activist, because I'm a human being."
When asked about the impact Pat Conroy had on his writing and life, Alexander recalls reading Conroy's cookbook and feeling drawn to the author's expansive, inclusive view of friends, family, and the writing community. "I want to live that life," he said, laughing. "I want to make shrimp and grits for my friends."
Alexander also noted Conroy's tireless work on behalf of other writers, and commitment to building the literary community. But perhaps most of all, Alexander valued Conroy's bone-deep authenticity, and the way his voice informed all of his writing. After quoting passages from the poet Pablo Neruda, Alexander commented about both the poet and Conroy, "You cannot read either writer and how they make the words dance on the page, and not know them."
In his book-centered family, he found plenty to read that fired his imagination and focused his voice, particularly in poetry. As a student at Virginia Tech University, Alexander studied with Nikki Giovanni. Though he wryly described their relationship as complex, Giovanni deeply informed his work, first as a challenging teacher and then powerful mentor, and finally as a friend. In his youthful quest to follow in Langston Hughes's footsteps after the publication of The Weary Blues in 1926, Alexander self-published his own poetry collection and criss-crossed the country to read and sell his work.
But soon, Alexander's poetry expanded into prose, and just as he found his voice when lifting it in protest, his work found new purpose as it spoke directly to young people--especially young people whose own voices and experiences were often ignored or rejected. Since the publication of his Newbery award-winning novel, The Crossover, in 2014, Alexander has made hundreds of school appearances. Follow-up books for children, middle-grade readers, and young adults (his novel-in-verse Solo came out August 2017) embody his belief that the best way to connect to and inspire young people is with literature, especially those who seem the hardest to reach.
"Find a way to keep them in the room," he said. "Books are doing the work to reach them--find kids where they are, make literature available." When asked how to reach young boys in particular, Alexander immediately recommended poetry. "It's concise, it's action oriented, it's easy to connect to excitement."
Alexander was also quick to highlight the role of independent bookstores in creating and sustaining an accessible community of writers, readers, young people, and adults. "Bookstores bridge the gap between community and commerce," he said. "Bookstores mean community and home--the spirit of community and home."
Family, home, community, books, and making the words dance on the page: the things that Kwame Alexander brings to his work and his world.
---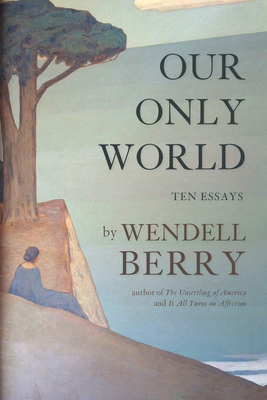 "Whether we or our politicians know it or not, Nature is party to all our deals and decisions, and she has more votes, a longer memory, and a sterner sense of justice than we do."
keep reading: Documentary of Wendell Berry to be screened at Music Hall
---
"The primary goal of the Southeastern Young Adult Book Festival is to encourage and develop literacy in young adults by connecting them with authors, thereby advancing education in the community.  What better way to do that than to have a little fun?"

keep reading: The Southeastern YA Book Fest announces 2018 line-up
---
"The combination of books, gifts, music, art, wine, coffee, and fresh food in a lively, friendly space will make Story & Song a favorite destination for friends and neighbors"

keep reading: Story and Song Bookstore to open in Fernandina Beach

 
---
Read This! Books with Street Cred
Recommended reading from Southern Indie Booksellers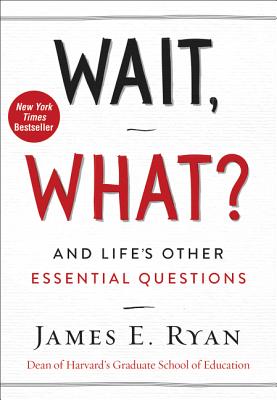 I am generally dismissive of these expanded commencement addresses that clog the shelves every graduation season, but I can't seem to get this one out of my mind. Despite the lofty title of Dean of the College of Education at Harvard, Ryan's contribution to the genre is plain-spoken, funny, honest, and honestly helpful. He focuses on asking yourself a series of broad questions regularly to enhance your character, your quality of life, and your contribution to the world. You can read it in about two hours. This book is great for anyone in transition: moving, retiring, starting a new job. I highly recommend it. I can't stop thinking about it.
Wait, What? And Life's Other Essential Questions by James E. Ryan ($19.99, HarperOne), recommended by Fountain Bookstore, Richmond, VA.
---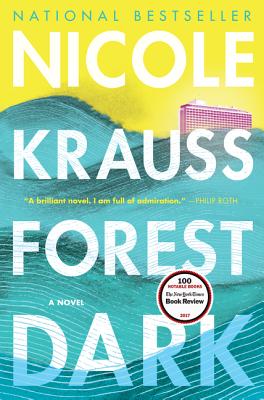 Remarkable. I remember reading W.G. Sebald for the first time and feeling that I was in the headspace, for a moment, of some type of uber-thinker. What an amazing montage she's created here: of theology and politics and the ancient and the ever-present. And what's more, it gets you right where you live. We've all yearned; we all yearn--right up until the end. That's what she's written: that story. I'd like to congratulate her but I'm a little scared of her--what a mind to have inside one's head.
Forest Dark by Nicole Krauss ($27.99, Harper), recommended by Flyleaf Books, Chapel Hill, NC.
---
Want a laugh-out-loud book about depression? A feel-good book about LSD? An engaging look at chemistry, history, and law? Look no further. Waldman is difficult and she knows it. She's trying to get better. We root for her every step of the way.
A Really Good Day: How Microdosing Made a Mega Difference in My Mood, My Marriage, and My Life By Ayelet Waldman ($24.95, Knopf Publishing Group), recommended by Ann, Parnassus Books, Nashville, TN.
---
More bookseller recommendations
top | share this
---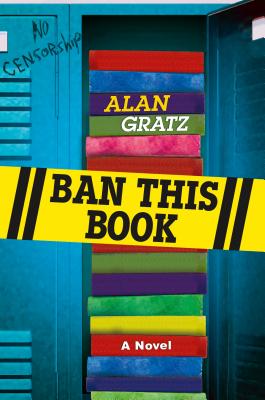 My favorite part of the story was the banned books themselves. The titles are there for any kid to track down, a veritable bibliography hiding in plain sight. As the author's note states, all the books that are banned in this book have actually been challenged or banned recently in America"
keep reading: Ban This Book is a lesson in censorship
---
"The owners and volunteers have given their hearts and their labor to make sure feminist bookselling had a voice in Florida, but the time has come and we can no longer keep the store afloat," co-owner Erica Merrell wrote in a post on the store's website. "We have some opportunities behind the scenes that may lead to a Wild Iris 2.0 and we hope to bring you good news in the next couple of months"
keep reading: Wild Iris Books to close
---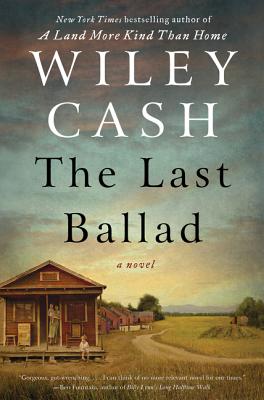 "The Last Ballad is inspired by the events of an actual textile mill strike in 1929 and, although it is nearly 90 years later, the themes of economic inequality, fear-mongering, racism and sexism are still relevant today"
keep reading: Finding the courage to create change
---
The List: Avid Bookshop loves Tin House Books
" Just as Avid is different from a Barnes & Noble, each publishing house has its own personality. Tin House was the first press that made me realize that. They turn out really eclectic works; that's how I think of Tin House: a powerhouse of creativity." - Rachel Kaplan
top | share this
---
"I wanted to write about love, I wanted to write a love story. About this idea of...if you want to receive it, you've got to give it.  And if you want to give it, you gotta have it."
---
In the spirit of Station Eleven and California, award-winning novelist Holly Goddard Jones offers a literary spin on the dystopian genre with this gripping story of survival and humanity about a group of adrenaline junkies who jump "the Salt Line."
How far will they go for their freedom--once they decide what freedom really means?
In an unspecified future, the United States' borders have receded behind a salt line--a ring of scorched earth that protects its citizens from deadly disease-carrying ticks. Those within the zone live safe, if limited, lives in a society controlled by a common fear. Few have any reason to venture out of zone, except for the adrenaline junkies who pay a fortune to tour what's left of nature. Those among the latest expedition include a popstar and his girlfriend, Edie; the tech giant Wes; and Marta; a seemingly simple housewife.
Once out of zone, the group find themselves at the mercy of deadly ticks--and at the center of a murderous plot. They become captives in Ruby City, a community made up of outer-zone survivors determined to protect their hardscrabble existence. As alliances and friendships shift amongst the hostages, Edie, Wes, and Marta must decide how far they are willing to go to get to the right side of the salt line.
The Salt Line by Holly Goddard Jones | G.P. Putnam's Sons | 9780735214316
top | share this
---
For the week ending September 24. Books on the Southern Indie Bestseller List that are southern in nature or have been recently recommended by southern indie booksellers.
See the full list here.
The Southern Book Prize |
A SIBA Okra Pick |
Special to the Southern List
Printable versions (PDF): Hardcover | Paperback | Children's
HARDCOVER FICTION

1. A Legacy of Spies
John le Carré, Viking, $28, 9780735225114
2. A Column of Fire
Ken Follett, Viking, $36, 9780525954972
3. The Girl Who Takes an Eye for an Eye
David Lagercrantz, Knopf, $27.95, 9780451494320
4. My Absolute Darling
Gabriel Tallent, Riverhead, $27, 9780735211179
5. Glass Houses
Louise Penny, Minotaur, $28.99, 9781250066190

HARDCOVER NONFICTION

1. What Happened
Hillary Rodham Clinton, S&S, $30, 9781501175565
2. Astrophysics for People in a Hurry
Neil deGrasse Tyson, Norton, $18.95, 9780393609394
3. Unbelievable
Katy Tur, Dey Street, $26.99, 9780062684929
4. Hillbilly Elegy
J.D. Vance, Harper, $27.99, 9780062300546
5. Killing England: The Brutal Struggle for American Independence
Bill O'Reilly, Martin Dugard, Holt, $30, 9781627790642
Special to the Southern List
HARDCOVER FICTION

8. To Be Where You Are
Jan Karon, Putnam, $28, 9780399183737
9. The Cuban Affair
Nelson DeMille, S&S, $28.99, 9781501101724
14. Lincoln in the Bardo
George Saunders, Random House, $28, 9780812995343

HARDCOVER NONFICTION

5. Killing England: The Brutal Struggle for American Independence
Bill O'Reilly, Martin Dugard, Holt, $30, 9781627790642
10. Theft by Finding: Diaries (1977-2002)
David Sedaris, Little Brown, $28, 9780316154727
14. The Templars: The Rise and Spectacular Fall of God's Holy Warriors
Dan Jones, Viking, $30, 9780525428305
15. Principles: Life and Work
Ray Dalio, S&S, $30, 9781501124020

PAPERBACK FICTION

7. The Nightingale
Kristin Hannah, St. Martin's Griffin, $16.99, 9781250080400
12. If the Creek Don't Rise
Leah Weiss, Sourcebooks Landmark, $15.99, 9781492647454
13. Ready Player One
Ernest Cline, Broadway, $16, 9780307887443
14. Rules of Civility
Amor Towles, Penguin, $17, 9780143121169

PAPERBACK NONFICTION

1. 7 Lessons From Heaven: How Dying Taught Me to Live a Joy-Filled Life
Mary C. Neal, Convergent Books, $16.99, 9780451495426
7. The Pigeon Tunnel: Stories from My Life
John le Carré, Penguin, $17, 9780735220782
8. Tales of Two Americas: Stories of Inequality in a Divided Nation
John Freeman (Ed.), Penguin, $17, 9780143131038
9. Evicted
Matthew Desmond, Broadway, $17, 9780553447453
10. The Four Agreements
Don Miguel Ruiz, Amber-Allen, $12.95, 9781878424310
11. Dispatches from Pluto: Lost and Found in the Mississippi Delta
Richard Grant, S&S, $16, 9781476709642
12. Rogue Heroes
Ben Macintyre, Broadway, $16, 9781101904183
13. Just Mercy
Bryan Stevenson, Spiegel & Grau, $16, 9780812984965
14. What to Expect When You're Expecting
Heidi Murkoff, Workman, $15.95, 9780761187486
15. Becoming Wise: An Inquiry Into the Mystery and Art of Living
Krista Tippett, Penguin, $17, 9781101980316
top | share this
What's happening at Southern Indies across the South?
See the full calendar | Find a Southern Indie Bookstore near you.
Authors Round the South | www.authorsroundthesouth.com
top | share this
Lady Banks is sponsored by the Southern Independent Booksellers Alliance, in support of independent bookstores in the South | SIBA | 3806 Yale Dr. | Columbia, SC 28409
You are receiving this email at @@email@@. If you wish to stop receiving email from us, you can simply remove yourself by replying with "unsubscribe" in the subject or by visiting: @@unsubscribe_url@@
---