Search all recommendations...
All Categories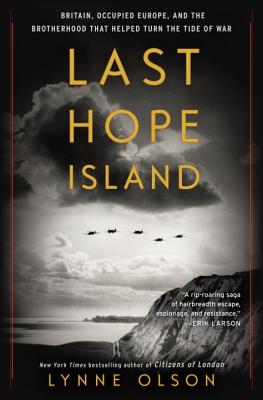 Both Helen and Rosemary recommend Lynne Olson's new history:
Rosemary: The contributions of smaller Allied nations (such as Norway) are often overlooked in WWII histories. In the starting days of the war, governments and partisans in exile congregated in London. Olson (Citizens of London) returns to its setting to detail how refugee communities came to England's aid (among them, Polish and Czech pilots for a decimated RAF) and England to theirs. All didn't go swimmingly, but all realized that England indeed was their Last Hope Island against Hitler.
Helen: Last Hope Island is an eye-opening account of heroic people who refused to give up as Europe fell to the Nazis. They came to Great Britain, calling it "Last Hope Island," to fight until the bitter end. Polish pilots became the most aggressive pilots in the air. When the leader of a French underground spy ring was captured, his young secretary took over. After giving his estate to the Allies to use as a military hospital, a Scottish lord led the soldiers who defused bombs. A fascinating history full of new personal stories from World War II.
Last Hope Island: Britain, Occupied Europe, and the Brotherhood That Helped Turn the Tide of War ($30, Random House), recommended by Helen and Rosemary, Quail Ridge Books, Raleigh, NC.
---